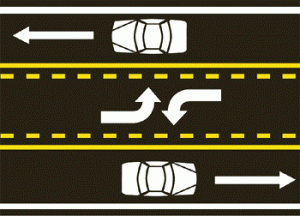 Welcome to the month of July, still on unsafe driving behaviours; I know you're thinking what kind of topic is this; "driving left of centre" almost an oxymoron! Maybe not! People do what they do for different reasons and see no need to change except there is something in changing for them; this is what this topic and those we have been looking at in the past months hope to achieve if we must intervene and reverse global threat of road traffic crash.
Driving left of centre is a frequently occurring unsafe driving behaviour mostly witnessed during traffic jam, on roads with no defined lane markings, two way traffic with no physical barrier restricting traffic interference; it is simply a violation of lane management. It is more dangerous when it has to do with facing an oncoming traffic but it also aggravates tension and lead to aggressive driving when sharing multiple lanes in the same direction.
Impatience, deliberate disobedience to traffic rules and regulations, ignorance of lane markings, impaired driving, driving under influence, absence of enforcement and/or any of these put together are the causes of driving left of centre. There are different lines drawn on the road providing different information – solid lines, broken lines, broken lines with different spaces; lane marking separates traffic in opposite direction, another indicates no overtaking, another separate lanes in the same direction, another indicates danger (mostly when approaching a junction or intersection).
Lane marking complement traffic management, violation of any could be interpreted as driving left of centre e.g. when you driving facing an oncoming vehicle, even parking facing an oncoming traffic; overtake where there is a solid line (single or double), entering turning lane well in advance of the intersection where you intend to turn, avoiding a pot hole or an object on your path of travel.
The Highway Code provides useful information on different lane markings, take time to revise them as space constraints may not allow for pictures; I will highlight some in our subsequent edition. Drive safe!