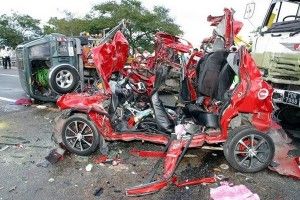 Welcome to the last month of the year; to few the year has come and gone so soon, to some it is their most lengthy year, while to many who has interacted with one incident or other in the course of the year, it may take years for them to realize the year has ended; if they had what it takes, they would rolled the hand of time backward or remove the year from the itinerary of history considering the reality of what the year has come to offer them.
Third Sunday in November just passed, another remembrance day for road traffic victims across the globe; event was not only supposed to remember victims and their loved ones who share the pain and burden of loss, but for member states to review their road safety implementation achievements and continue to put in place strong regulation, system and policies aimed to reduce crashes on the road.
The theme for this year's remembrance: "Speeding Kills! Design out speeding!" was very appropriate to crash reduction as it seeks to address one of the critical elemental cause of crashes and also highlightspillar #3of the UNdecade of action 2011-2020 – "safer vehicles". Sometimes ago I dealt with the topic of improper speed in this column and its many consequences.
However, taking a closer look at the remembrance's theme suggest a fundamental strategic approach to reducing road crash; among the three causes of road traffic crashes, the human factor takes the bigger chunk on the chart, thereforeif effort is focused and engineered on measures to close gaps of human negligence in judgement and exercising discretion behind the wheel, it will be worthwhile.
The increasing consequences associated with human errors (behavioural, physiological and cognitive)leading to fatal crashes and injuries need to be halted; this was the aim of the theme for2014 Remembrance Day for Road Traffic Victims–where vehicles are designed and manufactured with the protection of both its occupants and vulnerable road users; for example, regulation and enforcement of speed limiting device installation should be considered.
Bad roads do not directlycause a crashneither do bad weather; improper, excessive and unregulated speeding does, if speed on the road is properly moderated, there will be less collision based fatality, drivers would have sufficient time to read the road and driving space, promotes better vehicle control and reduce crash severity.
As the year is ending, activities increase; there will bea lot of movements on the road, people wanting to meet deadlines, commercial drivers involve in unsafe multiple trips without adequate rest, passengers become restless, throw caution to the wind and vulnerable road users walk under influence of their electronic gadgets and avoid the use of pedestrian bridges where provided on the highway; it is obvious that the task to make road safe for all is enormous, if everyone plays his role we can reduce the cost of crash. Kill your speed, speeding kills!