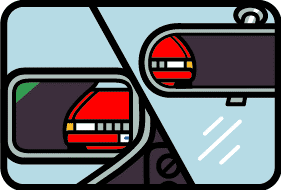 Thanks for taking time to glance through this piece, I hope observing and applying them to your day-to-day driving activities would make your driving experience and our road safe.
We established that blind spot (area that we cannot see, area blocked from our vision when we drive) is associated with vehicle designs, architecture of the environment, self-introduced and or accommodated unsafe practices. We shall attempt to discuss one of the few hints highlighted in the last edition; "proper mirror setting".
Mirrors on vehicle are fixed to allow motorist have both sides and rear view of their driving environment, the cost of this accessory has been built in the cost of purchasing the vehicle; however, if not used as intended poses great/costly danger to both the motorist and the public. Mirrors are not to be left folded when driving.
Mirror setting is part of the basic cock pit drill procedure built into a learner's training curriculum, but we shall re-visit this for the benefit of doubt ensuring no stone is left unturned.
It is expected that after gaining entrance to your vehicle and the doors are secured, adjust seat to suit proper control of the vehicle; thereafter set mirrors to view the environment from your driving position. It is important to note that sitting position influence mirror usage, if you drive a pool use vehicle or you employ the service of a driver; it is a good practice to make sure your mirrors are in good shape before you turn on the ignition.
In one of the developed world, United States to be precise; where statistics are gathered and researches are carried out to enhance road safety policy formation, implementation and monitoring; it is was gathered at a period that over 600,000 road crashes occur when motorist change lanes resulting in fatal consequences out of which 60% of the drivers causing the crashes say they didn't see the other motorist (it means other motorist might have been in their blind spot)
This very simple driving skill, mirror setting would have contributed to the many side sweep/brush and crashes on our road if proper investigation and monitoring tools were in place to unravel the root causes of these incidents.
It is therefore a huge crime to drive on the road without mirrors, dangerous to drive using damaged/broken mirror; driving with folded mirrors should not be encouraged as they could result in preventable fatal crashes. Please take note, if you can't see it in the mirror; you might be heading for a fatal error!