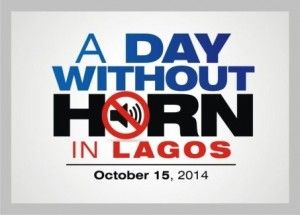 Welcome to October, this month I am focusing on the October 15, "Lagos horn free day", I shall continue discussion on unsafe driving behaviors for the rest of the year.
Horn free day! What about it you may ask in a place like Lagos where driving culture and inattention is alarming by both motorist and pedestrians? Almost every motorist if not all can barely survive a pole to pole driving without pressing the horn; traffic noise, especially from the abuse of horn contribute about 70% of total noise pollution globally, this addiction to the abuse of horn has become a norm and call for a re-orientation.
Lagos State Government through the Ministry of Transportation has set aside 15 October, as annual day for motorist to observe/desist from indiscriminate use of horn and siren. Considering the metropolitan nature and diversity of motorist, observing a horn free day is viewed as a daunting task that is totally impossible, some are of the opinion that it would lead to road collision and disrupt traffic; while some said compliance may vary across the State.
However, as realistic and factual as some of the views are, they are not sufficient to undermine the grave effect these abuses has on quality of lives as we transact everyday on the road; the myriads of health concerns, emotional and psychological effect of the noise we generate in traffic is epidemic; from hypertension, irritation, annoyance, shorter attention span, stress, anger, memory loss, poor concentration, aggression, panic attack, dis orientation and partial deafness to mention a few. We can begin to see how immensely it contributes to strange behaviors we encounter on the highway.
We would never have thought it was ever possible for a Governor to transit in a place like Lagos without siren? The past years show it is, so it may look impossible to have a horn free day but it is if we put our mind to it.
A horn free day is a call forchange of attitude, self-examination and building a culture of safety on the road; horn is meant to be used when it is necessarily reasonable for safety reason and emergency.Observing this day would enhance our road apprehensiveness which is critical to defensivedriving, help motorist to give more attention to their driving space, improve road courtesy and discipline.
Let us support the horn free day and desist from its abuses; modification of horn in especially motorcycles and tricycles, using horn to give compliment, harass motorist/pedestrian in traffic and at signal intersections, use of horn during service pick up by company/school bus drivers and indiscriminate use of siren among others. Horn free day is possible if we are patient, courteous and cautious, let us support a sane society; I support a horn free day in Lagos, what about you?